Mexican cuisine is rightfully considered one of the most diverse, rich, and colorful in the world. It's taken time, but today it has gained a spot amongst the best. Today, three Mexican-inspired restaurants hold places in the World's 50 Best Restaurants in the World list, but it's not all fine dining. The best Mexican food can be found in the streets and homes around the country. It is a must-see part of Latin America. One thing people sleep on is Mexican breakfast. 
Related Content:
[lwptoc]
This is an extensive review of what Mexican food looks in the morning. There's not one quintessential Mexican breakfast, but many.  When it comes to Mexican breakfast, it is very diverse when compared to breakfasts in other cultures. All you need is some corn tortillas and refried beans to get the party started, but that's just the beginning. If you've only had a breakfast burrito then you have a long way to go. 
Mexico is a modern country, well adapted to current international trends.. It's true that many people will rush through their corner coffee shop to get a Latte and a croissant on their way to work, but traditional Mexican breakfast is alive and well. 
Let's start our journey with something delightfully sweet just to show the versatility that exists with Mexican breakfasts. 
Pan Dulce
Pan dulce literally means sweet bread and has been part of the country's culture since it was brought by European immigrants five hundred years ago. Sweet bread comes with imaginative names and might resemble hair braids, seashells, bow ties or ears. There are hundreds of styles, and everyone has its favorite. Not all sweet bread is made every day, as some are seasonal or made for specific dates. 
Even international supermarkets like Walmart have a dedicated section to these sweet treats, but the best are freshly made early in the morning in decades-old, local bakeries. Enjoy pan dulce with a mug of hot chocolate.
Mexican street food is a thing of legend, and food stalls are ready for business as soon as the sun comes up. From tacos to quesadillas, morning stalls usually run out of food before noon.
Tacos de Canasta
Tacos de canasta are particularly well suited for early hours. The name means basket tacos; basically uncomplicated, pre-made tacos fitted tightly in a weaved basket, vendors carry them around on the back of a bicycle; you'll recognize them when you see them. Traditional taco fillings include mashed beans or potatoes, pressed pork skin, or a ricotta-like cheese called requesón.
The moisture and heat inside the basket make these tacos unique; they are compact and tightly pressed. The two-bite sized treats need only a spoonful of chunky, homemade green salsa verde to achieve perfection.
Corn is the base of Mexican food. Grounded to make a dough (masa), corn is used to make tortillas, but also tamales.
Corn dough, a spread of salsa verde and a small piece of chicken or pulled pork meat are squeezed in a banana leaf, then steamed for an hour.
Tamales
Tamales are quite filling and come in distinct variations depending on the sauce: green, red or the incredibly complex brown mole sauce end up as a different tamale. 
People enjoy tamales with a warm, disposable cup of atole, a sweet, thick drink made with, you guessed it, corn. It comes in flavors too.
Tacos
Tacos for breakfast? Of course! Tacos are not a thing but a presentation. You can top a tortilla with anything and you've got yourself a taco. 
Popular breakfast tacos revolve around complicated, time-consuming preparations, usually cooked through the night. Pitted barbecue goat, called barbacoa, or whole roasted pig, turned into carnitas are classic examples. 
Food stands specializing in tacos de guisado will cook beforehand up to a dozen different taco fillings, from roasted zucchini flower to steak, from sautéed potatoes to cactus leaves. 
These places are crowded because people have options, locals will often order three or four contrasting tacos, all with a different flavor profile.
Of course, not everyone has breakfast on the streets every day. Many Mexican families enjoy a typical breakfast at home, especially on weekends. 
Quesadillas
An easy, popular breakfast is quesadillas. Pulled cheese inside a folded tortilla and toasted until golden brown on a flat iron skillet. Even a store-bought salsa will make these simple morning delights a perfect way to start the day.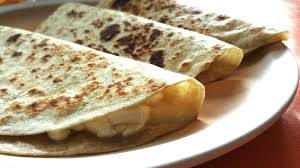 Mollete
Another accessible breakfast item is the mollete. You cut in half a wheat bun, like a baguette. A spread of mashed beans and a layer of cheese gratin finish this open sandwich. 
Chilaquiles
Some home-cooked breakfasts are a bit more complicated. Chilaquiles have always been a way to use dried, leftover tortillas that unavoidably pile up every day in Mexican kitchens. 
Cut in quarters, these tortilla chips serve as the base for a filling plate of Chilaquiles. A variety of salsas can be used to soften the chips, and a generous fistful of grated cheese, diced onion and a drizzle of heavy cream become more than the sum of its parts.
Chilaquiles can be spicy, and they are certainly filling. For many, this is the perfect hangover cure, for others, just one good-old hearty meal to get energized. 
Enchiladas
Enchiladas might just be the most beloved Mexican breakfast in the country. To make them, you fill folded, soft tortillas with pulled chicken meat. You gently place them in a deep dish and cover them with sauce. Red salsa will make red enchiladas, and green salsa makes green enchiladas, you get the picture. 
Topped with cheese, onion, coriander and heavy cream, enchiladas are as delightful as they sound. Take note, these are not tacos, but more of a casserole that you enjoy with a fork and knife. 
Of course, there's no breakfast without eggs — the one universal morning item, typical around the world. There are infinite of ways to make eggs, and Mexicans have more than a few of their own.
Huevos Rancheros
Huevos rancheros, or cowboy style eggs, are sunny side ups over fried tortillas, covered with spicy, tomato-based salsa and served with a side of mashed beans. They have the flavor of the countryside, and the warmth of home. 
Odds are this is a Mexican breakfast dish you have seen. You might have figured out by now that huevos rancheros is one of the most popular Mexican breakfast recipes.
Huevos a la Mexicana
Huevos a la Mexicana or Mexican style eggs are a bit less fancy. Scrambled eggs mixed with sautéed tomatoes, onions and finely chopped green peppers, that's it. They make fantastic tacos and go great with mashed beans.  While these are similar to Huevos rancheros, they are definitely not the same.
As you see, in Mexico you can have something different for breakfast every day for a year, and you'd be just getting started. Mexican cuisine is as rich as their culture, and its food as warm as its people.
Whether you're up for making tacos or plan to enjoy a few quesadillas with friends, remember Mexican food is nothing without salsa. A good salsa recipe in your repertoire will prove handy. Luckily, simple is sometimes better, and our Pico de Gallo salsa is not only easy to make but tasty and colorful. 
Pico de Gallo Salsa
Ingredients: 
Two large tomatoes

A medium white onion

One jalapeño pepper

A sprig of fresh coriander

Fresh lime juice (one lime)

Salt
Preparation
Cut the tomato and onion into half-inch cubes 

Finely chop the jalapeño and coriander leaves

Mix everything in a bowl and add lime juice

Season with salt to taste
Pro tip: Skip the chili for a kid-friendly Pico de Gallo sauce or switch to serrano peppers for a spicier version.
Quick Mexican Breakfast
Mexican Breakfast Cup
The Mexican Breakfast Cup is a dish that foodies all over the world are drooling over. This dish is simple to make and can be made ahead of time, making it perfect for those busy mornings. The Mexican Breakfast Cup is comprised of eggs, salsa, cheese, and diced avocado, all nestled in a warm tortilla shell. The combination of these flavors is sure to wake up your taste buds and leave you feeling satisfied. So if you're looking for a new breakfast dish to try, look no further than the Mexican Breakfast Cup. Bon appetit!
Ingredients:
6 eggs
1/2 cup salsa
1/2 cup shredded cheese
1 avocado, diced
6 tortilla shells
Sea salt and freshly ground black pepper to taste
Optional toppings: sour cream, diced tomatoes, chopped green onions
Instructions:
Preheat oven to 350 degrees F.
In a large bowl, whisk together eggs, salsa, cheese and avocado.
Pour mixture evenly into the tortilla shells.
Sprinkle with salt and black pepper, to taste.
Bake for 15-20 minutes, or until eggs are firm and tortillas are golden brown.
Serve with sour cream, diced tomatoes and chopped green onions, if desired. Enjoy!
Mexican Breakfast Hash
Move over avocado toast, there's a new breakfast dish in town! Introducing Mexican Breakfast Hash – the perfect foodie breakfast option. This dish is packed with flavor, thanks to the addition of fresh tomatoes, chilies, cilantro and lime. Plus, it's super easy to make and can be easily customized to your taste. So if you're looking for a new breakfast option that will impress your foodie friends, look no further than Mexican Breakfast Hash!
Ingredients:
1 tablespoon olive oil
1 red onion, diced
3 cloves garlic, minced
1 jalapeño pepper, seeded and diced
2 tablespoons chopped cilantro
1 lime, juiced
2 cups diced fresh tomatoes
4 eggs
Sea salt and freshly ground black pepper to taste
Optional toppings: shredded cheese, diced avocado, sour cream
Instructions:
Heat the oil in a large skillet over medium heat.
Add the onion, garlic and jalapeño pepper, and cook until softened, about 5 minutes.
Stir in the cilantro and lime juice.
Add the tomatoes and cook for 2 minutes.
Crack the eggs into the skillet and cook to your desired doneness.
Season with salt and black pepper, to taste.
Serve with shredded cheese, diced avocado and sour cream, if desired. Enjoy!
Conclusion – Mexican Breakfast is Freaking Awesome!
With all of the incredible options, there is no way anyone should get bored when eating Mexican food for breakfast. Try one of these recipes out today. With a quick trip to the grocery store you can have an endless amount of Mexican breakfast options. All of these options are delicious!