Have you ever checked out the incredibly hot Mexican weather girls? If not that's a big mistake. Maybe you've had a friend ask: "Who is that gorgeous Mexico weather girl?" If they only knew how many beautiful weather reporters there are in Mexico. Not only does Mexico offer some of the hottest weather, but also these gorgeous women. I guarantee you these will be the most entertaining weather forecasts you ever watch in your life. Along with the hottest weather, Mexico also brings some of the hottest ladies in Latin America. From Mexico City to Cancun, they bring you the details on all of the Mexico weather. There's nothing like these hot Mexican news weather girls. They definitely give you a forecast worth watching.
Related Content:
The way the weather is reported in Mexico is very different than it is in the United States. If an American weather channel attempted to display the weather report in this fashion they would be ripped for turning the women into sex objects. In Mexico it's totally different. They are celebrated and treated as stars. These Mexican weather women are a true treasure of Latin America. The amount of sex appeal brought by these women in high heels is amazing. Let's take a chance to admire some of the hot weather reporters in Mexico.
Yanet Garcia
Yanet Garcia is widely known as the hottest weather anchor in Mexico. Up until the summer of 2018 she had a boyfriend. Believe it or not he is the one that broke up with her. What's even harder to believe is the reason he broke up with her. Professional gamer Douglas Martin broke up with Yanet so he could focus on his video game career and play more Call of Duty.
View this post on Instagram
What a dork! This story is hard to believe, but it's 100 percent true. He put a video up on YouTube to discuss the breakup, giving us proof that it actually happened. He actually blew it with who many consider the world's sexiest weather girl.
It's too bad when you let your career get in the way of a complete smoke show girlfriend. Yanet even took to Twitter to show how heartbroken she was.
I'm sure the followers of this beauitful woman will be delighted to know she's now single.
This hottie will have no problem finding a new man if that's what she desires. If there's one these hot weather girls can do it's bounce back.
Here are some more photos of her, courtesy of her Instagram account:
View this post on Instagram
View this post on Instagram
Who is Yanet Garcia's Boyfriend?
After her breakup with professional gamer Douglas Martin, Garcia is now dating professional football player Lewis Howes. She verified this with a post on Instagram June 10, 2019.
Who is Yanet Garcia Married to?
Yanet Garcia is not married, but is dating professional football player Lewis Howes. Talk about a guy who has it all. Not only is he a professional footballer, but also lucky enough to have this beauty.
How Old is Yanet?
Yanet is 28 years old and was born on November 15, 1990.
How Much is Yanet Garcia Worth?
Yanet Garcia, the Mexican model and meteorologist, is worth $3 million.
How Tall is Yanet Garcia?
Yanet is 5'6″
What Nationality is Yanet Garcia?
Mexican. She was born in Monterrey, Nuevo Leon, Mexico.
Lluvia Carrillo
Oh, look, another beautiful Mexican weather girl. This one appears on Televisa Monterrey. Oh, the beauties who appear on Televisa Monterrey. In Spanish, her first name means "rain." What a perfect name for a weather girl. Currently, she is in a serious relationship with Javier Aquino, the Mexican national soccer star. On Telemundo Deportes there was a report of the couple's romance. Another footballer dating one of these beautiful women who happen to provide the weather forecast. Perhaps being a professional football player increases your odds to land a sexy Telemundo weather girl.
Even though she has a boyfriend, we are still allowed to look. Let's take a deep dive into her Instagram account:
View this post on Instagram
View this post on Instagram
View this post on Instagram
Marilu Kaufman
And here we are with another beautiful weather girl from Mexico. It's almost like they grow on trees. She does her reporting on Multimedios Television y Milenio Noticias. Not only is she a weather anchor, but she is also a model as well as an actress. Not only has she been on many different television commercials, but also popular music videos. Her following on social media is huge. Here are some of the beautiful photos from her Instagram:
View this post on Instagram
View this post on Instagram
View this post on Instagram
Mabel Salinas
We have yet another beautiful weather girl for you with Mabel Salinas. She is not one of the most popular and that may come as a surprise to you. Despite constantly changing her look, one thing is for sure: she is always stunning. Let's look at some of her other photos: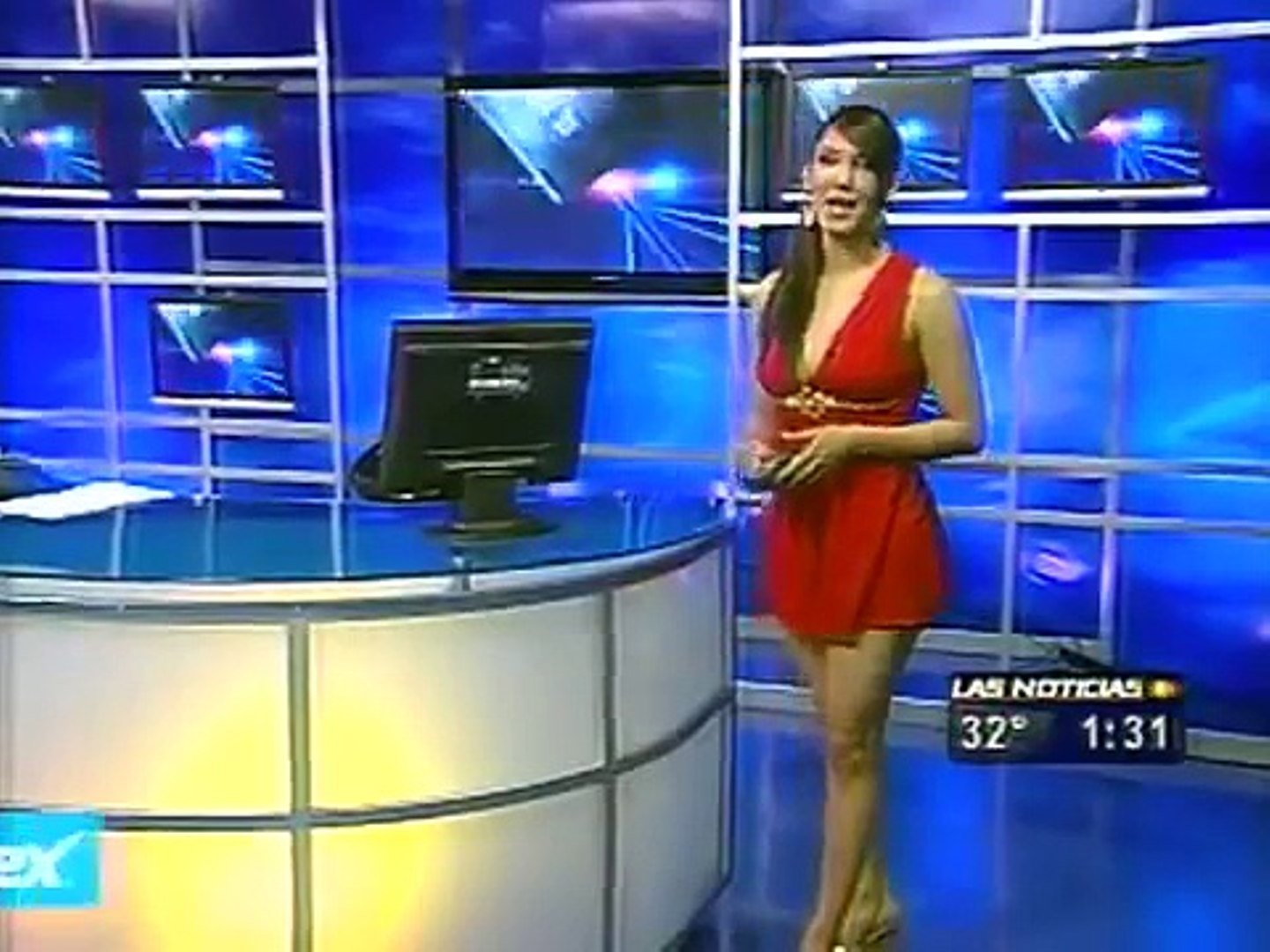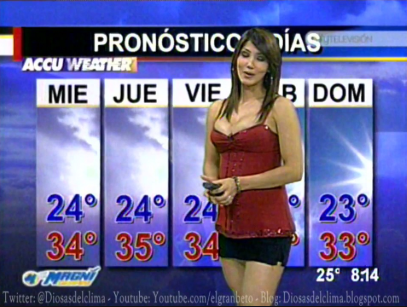 And here is a video of her in action that you will be sure to love:
Gaby Lozoya
Here is another weather hottie that works for Television Monterrey. She has risen to fame by showing off her beauty. Her huge following on Instagram is over 145,000. Let's take a look at some of her best work:
View this post on Instagram
View this post on Instagram
View this post on Instagram
Diana Alvarado
And here we are with the cougar of the bunch. Diana Alvarado is incredibly beautiful. She provides weather reports from Ciudad Juarez. What an incredible body she possesses. Her Instagram collection is something to behold. She brings plenty of variety, showing photos from some incredible angles and loves to show off in bikini shots. Let's have a look:
View this post on Instagram
View this post on Instagram
Gabriela Lozoya
Gabriela or Gaby Lozoya is incredibly beautiful Mexican weather forecaster. Of all of these beauties from Latin America, she just might be the best. If you don't believe me, check out this YouTube video of her showing off her skills:
Jackie Guerrido
Jacki Guerrido is another hottie who isn't afraid to show off what she's got while doing the weather report. Have a look for yourself.
Mayte Carranco
Carranco is another beautiful Mexican lady. Her career has transitioned, but never forget where she came from: doing the weather.
Susana Almeida
Believe me when I say, we may have saved the best for last. Take a look at Susy Almedia. She is absolutely gorgeous.
These Mexican weather girls are incredibly beautiful. They really check out the weather reports in style in Mexico. This country brings the hottest weather along with THE hottest weather anchors. With women this beautiful, are people even looking at what the weather will be? Maybe they are just admiring the beautiful women. If that is the case, do you blame them? After all, these Mexican weather girls are some of the most gorgeous women on the planet.
If you are ever in San Diego or anywhere else in Southern California, it's worth a try to see if you get these beautiful weather girls on your cable package. These beauties from Latin America are something to behold. Mexican weather girls are an incredible thing that everyone should check out.
There are a lot of awesome things about Mexico and this just adds one more: they have the world's hottest weather girls. The next time you watch the weather channel in your country you may find yourself longing for a beautiful Latina weather girl. In the meantime, you'll have to check and see if they've posted pictures on their Instagram page or YouTube channel.