Costa Rica is a haven of biodiversity, culture, and beauty. It's full of ecotourism activities, gorgeous waterfalls, chilled out beach towns, and all-around good vibes. If you're planning a two-week trip to Costa Rica, you'll realize there's no shortage of things to do in this Latin American country. Here's our Costa Rica two week itinerary of the best things to do in this lush Central American country. 
Travel Tips:
The best way to explore Costa Rica is by renting a car. Though you can get most places by bus, they can be hot and uncomfortable, so while planning your trip, consider using a rental service to maximize your trip.
You can often pay in both dollars of colones in Costa Rica, but it's worth taking out colones for street side markets, taxis, and locations that only accept colones. You can do this quickly and easily at an ATM.
Day 1 San José (1 night)
Fly into San José and spend your first night there to get yourself adjusted. The city isn't as exciting compared to your journey ahead so don't worry too much about not spending enough time here. You can explore around the city center and grab lunch or dinner out.
A great choice for lunch or early dinner: Cafe Rojo is a delicious vegetarian-friendly restaurant with a beautiful outdoor patio area with a deck as well as indoor seating. The food is Costa Rican means Vietnamese. 
For dinner: Check out Olio just outside the city center. The restaurant is beautiful, and they serve Mediterranean dishes like tasty tapas, calamari, goats cheese croquettes, and more.
Where to stay in San José:
Budget & mid-range options: Selina San José
Days 2-3 Monteverde (2 nights)
Head across the volcano to Monteverde where you can experience an incredible cloud forest and adventure tourism. The Monteverde Cloud Forest Reserve is also an excellent place to start exploring the fauna and flora of Costa Rica. Upon arrival, you'll be surrounded by moist dripping greenery, hanging bridges, and the cloudy ambiance of this forest.
Activities
Coffee & Jungle Night Walk
Many of Costa Rica's wildlife don't often show their faces until the sun goes down. Take advantage of this by enjoying a coffee tour (with a twist) in Monteverde! Two of Costa Rica's major crops are the coffee bean and the cacao plant, meaning there's no shortage of either in Costa Rica.
The Coffee'N Jungle Night Tour provides a little bit of everything. You'll begin learning about the coffee process by visiting a plantation, go on a mini chocolate tour, and then the night walk in the woods. Expect to observe various animals such as sloths, frogs, and insects.
Ziplining through the clouds
One of the best things to do on a two-week Costa Rica trip is to go ziplining. Soar through this cloudy jungle on an exciting zipline course and experience Costa Rica from a new perspective.
Monteverde Cloud Forest Reserve
Hike independently or with a guide as you explore the awe-inspiring views of the Monteverde Cloud Forest Reserve. Admission costs $22, but it's full of lush greenery, mystical forests, and wildlife.
Where to stay in Monteverde:
Budget: Sleepers Sleep Cheaper Hostel | Mid-range: Camino Verde B&B Monteverde Costa Rica
Days 4-6 La Fortuna (3 nights)
La Fortuna is a perfect next stop on your two-week Costa Rica itinerary. It's basically Costa Rica's adventure capital so you know you're in for fun.
The best things to do in La Fortuna is check out the volcano, hike to the La Fortuna waterfall, and relax in hot springs.
Activities
Arenal Volcano
While in La Fortuna, the Arenal Volcano can't be missed, partially because it's massive and partially because it's a fantastic site to see. So, head to the Arenal Volcano National Park. There are many guided tours through the park showing you the best views of the volcano and Arenal Lake located next to it.
La Fortuna Waterfall
Indulge in an amazing hike to the La Fortuna waterfall. Getting to the waterfall requires hiking down 400 steps (and back up), but it's completely worth it when you stumble upon its spectacular views. Treat yourself with a quick dip in the pool once you arrive.
Be sure to pack good shoes and swimsuit for this short hike.
Hot Springs
Another amazing thing to do during your two weeks in Costa Rica is check out natural hot springs around La Fortuna. These naturally occurring mineral hot springs will be the perfect way to spend your last day in La Fortuna before heading onward. You can check out resorts like Eco Termales Fortuna though you can also ask around to locals for recommendations on free springs, too.
Where to stay in La Fortuna:
Budget: Arenal Hostel Resort | Mid-range: Arenal Manoa & Hot Springs
Days 6-7 Tortuguero National Park (2 nights)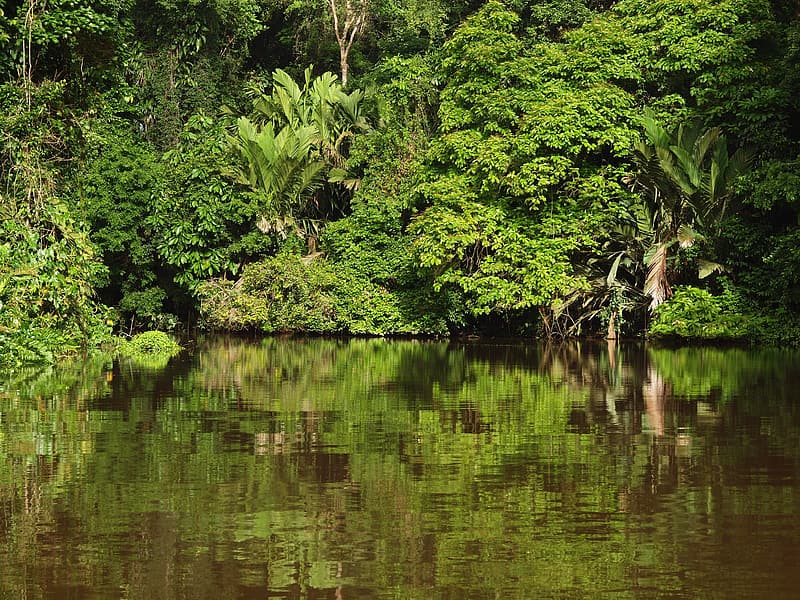 If you're looking for diverse wildlife and a chance to see sea turtles, Tortuguero National Park on the Caribbean Coast will be your next stop. All four species of sea turtles lay their eggs on the beaches at this park. Plus, you'll likely see many birds, monkeys, and perhaps even sloths.
To get here, you'll drive from La Fortuna to Moín and take a boat, as it's only accessible via boat or small plane. If you decide against driving, you can get a bus to Moín or book a package to visit Tortuguero.
Days 8-11 Puerto Viejo (4 nights)
Continue your two weeks in Costa Rica with a trip to Puerto Viejo, also on the Caribbean Coast. This lively beach town offers a relaxed pace, boutique shops and restaurants, and a combination of Costa Rican and Caribbean culture.
You can easily spend a handful of days here simply laying on the beach, surfing, and chatting with locals.
Activities
Rent bikes and cycle.
The best way to explore Puerto Viejo is just as the locals do – on bikes. There are plenty of bike rental locations in town, so you can easily enjoy an adventure around town and along the coast.
Visit the top beaches.
The area offer several incredible beaches. The town's main beach, Playa Cocles, is long and wide and full of life. Take surfing lessons, walk on the slackline, or sunbathe.
Then there's Playa Chiquita which is more relaxed and full of charming palm trees. Find the best beaches in Puerto Viejo.
Check out a chocolate tour.
Next to Playa Cocles, you'll find Caribeans a delicious coffee and chocolate cafe. Beyond just serving up their delicious treats, they also offer tours of their chocolate plantation. Book a chocolate tour and taste the cacao fruit, learn all about the bean to bar process, sample some delicious chocolate, and enjoy the stunning ocean views as well.
Snorkel at Punta Uva.
Accessible via bike or car, head down to Punta Uva for one of the area's best beaches for snorkeling. Check out fish and coral along this beautiful area.
Feel free to bring your own snorkel gear or rent on site.
Go on a jungle walk.
It's common to see monkeys and sloths in Puerto Viejo. Begin your jungle walk at the beach next to Salsa Brava Rasta Bar and follow the trail which leads you to Playa Cocles. This walk features both the sea and the lush jungle. It's a perfect combination. There's even a beautiful viewpoint that you can follow to discover gorgeous views of the Caribbean Sea.
Take a tour of the Jaguar Rescue Center.
A visit to the Jaguar Rescue Center is a treat. There aren't actually any jaguars here, but there's so much more. It's a volunteer-run organization where wildlife animals are rehabilitated and sent back into the wild, if able. It's an amazing organization to support and the tour guides are very insightful. You'll get up close with sloths, birds, monkeys, reptiles, and even a deer—surprisingly, Costa Rica's national animal.
Where to stay in La Fortuna:
Budget & mid-range: Selina Puerto Viejo | Mid-range: Coco Loco Lodge
Days 12-14 San José (2 nights)
You're likely going to be a bit tired at this point, so head back to the capital city to relax and unwind on your last day and a half. You can take the bus from Puerto Viejo to San José or go by car.
Explore around the city center, visit museums, and enjoy your last Costa Rican dishes.
Activities
National Museum of Costa Rica
Check out the National Museum of Costa Rica to learn up about Costa Rica's rich history and art work. The building itself is beautiful, both inside and outside.
Restaurante Tiquicia
For a traditional restaurant in San José, Restaurante Tiquicia is worth a visit. Located in the trendy neighborhood of Escazú, overlook the mountains and San José as you enjoy traditional cuisine, Costa Rican dancing, and plenty of fun. It's a great way to end your two-week adventure in Costa Rica.
Where to stay in San José:
Budget & mid-range options: Selina San José
Note: You could also opt to stay directly in Alajuela as the airport is located here. It's a small town with interesting architecture and is quite easy to explore. However, the great thing about the Selina accommodation in San José is that it has a bar, restaurant, and beautiful set up. They offer Costa Rican dishes, live music, a cinema, and a lot of other fun opportunities for their guests. It makes for a relaxing and comfortable end to your stay in Costa Rica.
Fly home from Costa Rica
So long and pura vida, Costa Rica! Your two weeks in Costa Rica has officially ended, but you're sure to be leaving with a few tan lines and lasting memories. If you followed this Costa Rica two week itinerary you surely had an incredibly memorable experience.