Have you ever dreamed of living in a vibrant, diverse city with a rich history and an incredible array of neighborhoods? Mexico City might just be the perfect place for you! With a lively mix of trendy, family-friendly, and professional neighborhoods, Mexico City offers something for everyone. In this blog post, we'll explore the best neighborhoods in Mexico City for expats, so you can find your perfect place to call home.
From charming, trendy hubs like Roma Norte to family-oriented, cultural havens like Coyoacán, Mexico City's neighborhoods are as varied as they are captivating. Let's dive into the bustling metropolis and discover the best neighborhoods to embrace the expat life in Mexico City.
Table of Contents
Living the Expat Life: Top Neighborhoods in Mexico City
Mexico City is a bustling metropolis with a rich history and a vibrant culture. Expats looking for the best neighborhoods in Mexico will be delighted by the range of options available. From trendy hubs like Roma Norte to green oases like Condesa, there's a neighborhood for every lifestyle and preference.
Whether you're a young professional seeking a hip, artistic atmosphere or a family in search of safety and tranquility, Mexico City offers a variety of charming neighborhoods to make your home away from home. It's time to delve into some of the choicest neighborhoods in Mexico City for expats.
Roma Norte: The Trendy Hub
Roma Norte is the epitome of a trendy, vibrant neighborhood in Mexico City. Known for its stunning art deco and colonial architecture, Roma Norte boasts amazing restaurants, cafes, and beautiful green spaces right in the city center. The atmosphere in Roma Norte is described as vibrant and full of creativity, attracting young professionals and expats alike. Just a short distance away, you can also explore the lively Zona Rosa neighborhood.
For those seeking a neighborhood brimming with excitement, Roma Norte fits the bill. From lively food markets to bustling nightlife, there's never a dull moment in this eclectic neighborhood. Experience the energy and creativity of Roma Norte, and you'll understand why it's one of the most popular neighborhoods in Mexico City for expats.
Condesa: Green Oasis in the City
Condesa, located near the city center, offers a safe and lush escape from the hustle and bustle of Mexico City. With beautiful tree-lined avenues, ornate mansions, and a wide variety of dining establishments, it's no wonder that Condesa has become a popular destination for expats. The relaxed atmosphere of Condesa provides a refreshing contrast to the busy downtown area, making it an ideal neighborhood for families and young professionals alike.
In Condesa, you'll find an abundance of green spaces and a thriving culinary scene, with notable bars, clubs, and lounges offering an enjoyable experience for residents. If you're searching for a neighborhood that combines safety, tranquility, and modern amenities, look no further than Condesa.
Polanco: Luxury Living
If luxury living is what you're after, Polanco is the neighborhood for you. Known as an international, vibrant, and sophisticated area, Polanco is home to luxury shopping, world-class dining, and beautiful parks. The neighborhood is also incredibly safe, making it a popular choice for affluent expats and families with young children.
In Polanco, you'll find some of the best restaurants in Mexico City, such as Pujol and Rosa Negra. The neighborhood is also home to several amazing attractions, including the Museo Nacional de Antropologia and the Museo Soumaya, as well as the stunning Pasaje Polanco on Presidente Masaryk.
With its upscale amenities and luxurious atmosphere, Polanco is the epitome of high-end living in Mexico City.
Family-Friendly Choices: Ideal Neighborhoods for Expats with Kids
For expats with children, Mexico City offers a variety of family-friendly neighborhoods that blend culture, history, and charm. In the following sections, we'll explore two such neighborhoods, Coyoacán and San Angel, which cater to families seeking a safe, welcoming environment and a rich cultural experience.
Coyoacán: Rich in Culture and History
Coyoacán is a neighborhood steeped in culture and history, making it an ideal choice for families with children. Coyoacán, with its culturally rich atmosphere and renowned Museo de Frida Kahlo, provides a distinctive living experience to be cherished by families. The neighborhood also has a welcoming, small-town feel centered around the charming Jardin Hidalgo, providing a relaxing environment for families to explore.
When it comes to dining, Coyoacán has something for everyone. From the Mercado de Antojitos for a delicious fried quesadilla to the scrumptious coffee at El Jarocho, you'll find a wide variety of culinary delights in this neighborhood.
With its rich cultural heritage and family-friendly atmosphere, Coyoacán is a neighborhood that expats with children will undoubtedly love.
San Angel: Quaint and Charming
San Angel is a picturesque, charming neighborhood situated in the southern part of Mexico City. Known for its cobblestone streets, art galleries, and weekend markets, San Angel offers a slower pace of life that appeals to families and those seeking a quieter lifestyle. The Diego Rivera and Frida Kahlo House-Studio Museum, as well as numerous art galleries and vibrant weekend markets, add to the neighborhood's artistic allure.
San Angel, besides its visual beauty, is renowned for its safety and robust community spirit. For expats with children, this quaint and charming neighborhood provides a peaceful, secure environment to call home while still offering a rich cultural experience.
Work-Life Balance: Neighborhoods for Professionals
For professionals seeking neighborhoods that cater to their work-life balance and convenience, Mexico City offers several excellent options.
Next, we'll uncover Santa Fe and Cuauhtémoc, two neighborhoods well-suited for professionals, offering seamless access to corporate headquarters and business centers.
Santa Fe: The Business District
Located in the western part of Mexico City, Santa Fe is a modern business district that has become a hub for corporate headquarters, shopping malls, and apartment buildings. Home to many major corporations such as Grupo Bimbo, Cemex, and Grupo Carso, Santa Fe is an ideal neighborhood for professionals who work in the area.
In addition to its business-friendly atmosphere, Santa Fe also boasts proximity to the charming neighborhood of Santa Maria la Ribera, as well as:
Renowned international restaurants such as Nobu and La Casa de Toño

An impressive upscale culinary scene

Modern amenities

A convenient location
With these features, Santa Fe is an excellent choice for professionals seeking a neighborhood that caters to their work-life balance.
Cuauhtémoc: Central and Convenient
Cuauhtémoc is a centrally located neighborhood in Mexico City that offers:
An exciting blend of modern and traditional housing

Close proximity to fascinating museums, iconic landmarks, and bustling business centers

Excellent connectivity via Mexico City Metro, making commuting a breeze
This particular neighborhood, with its tree lined streets, is highly attractive to professionals, especially when compared to other neighborhoods.
In Cuauhtémoc, you'll find a range of delightful amenities, such as:
Charming cafes and restaurants, including Chiquitito and Cucurucho Cafe

Central location

Diverse housing options

Safe environment
Cuauhtémoc is a fantastic neighborhood for professionals seeking convenience in Mexico City.
Embracing Local Flavor: Authentic Neighborhoods for Expats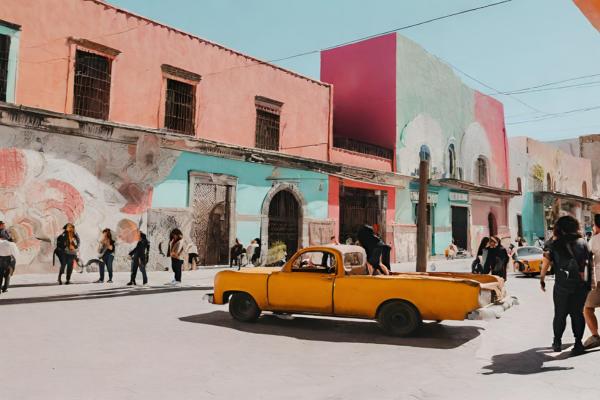 For expats looking to fully embrace the local flavor of Mexico City and explore the entire country, there are several authentic neighborhoods that showcase the city's local charm and eclectic mix.
In the following sections, we'll explore Juarez and Narvarte, two neighborhoods that provide an authentic Mexico City experience.
Juarez: Eclectic Mix of Old and New
Juarez is a diverse neighborhood in Mexico City that offers a fascinating blend of old and new, featuring ornate mansions, trendy shops, and a thriving food scene. Its central location, within walking distance to Roma Norte and Bosque de Chapultepec, makes it an attractive option for expats seeking a taste of authentic Mexico City living.
The vibe in Juarez is vibrant and hipster, with a lively cultural scene that includes cozy coffee shops like Cicatriz and a fantastic yoga studio. Food lovers will also appreciate the diverse dining options in Juarez, from the delicious late-night street food to the authentic regional Korean fare in Little Korea.
For individuals in search of a neighborhood showcasing genuine local charm, Juarez is an ideal pick.
Narvarte is a hidden gem in Mexico City, offering a residential, family-friendly atmosphere that's often overlooked by tourists. With its traditional restaurants and local charm, Narvarte provides a taste of authentic Mexico City living that's perfect for expats seeking a slower pace and a more intimate community.
The neighborhood is home to plenty of delicious restaurants serving up traditional food, providing a true taste of Mexico City's culinary scene. Narvarte Oriente, in particular, is celebrated for its:
Lively cultural scene

Cheerful art deco homes

Authentic taquerias

Sidewalk cafes

Culture hubs like Theater 11 July
For expats aspiring to experience Mexico City life like a resident, Narvarte is an unmissable neighborhood.
Safety First: Mexico City's Safest Neighborhoods for Expats
When choosing a neighborhood in Mexico City, safety is always a top priority. Thankfully, the city offers several safe neighborhoods for expats, including:
Roma Norte

Condesa

Polanco

Coyoacan
These cool neighborhoods are known for their low crime rates and secure environments, giving expats peace of mind as they settle into their new homes.
However, it merits attention that safety levels can fluctuate from one neighborhood to another, hence staying alert and taking necessary precautions is paramount, regardless of your residential area. By choosing one of Mexico City's safest neighborhoods and remaining vigilant, expats can enjoy a secure and fulfilling life in this bustling metropolis.
Adapting to Mexico City Life: Tips and Resources for Expats
Adapting to life in Mexico City may seem daunting at first, but with the right resources and tips, expats can quickly feel at home in this vibrant city. Start your quest for the perfect neighborhood by narrowing down your choices and exploring three to five specific neighborhoods in Mexico City. This will help you get a feel for the city and its diverse areas, making it easier to find the perfect place to call home.
Alongside finding housing, getting acquainted with local laws, customs, and the city's public transportation system is equally important. Connecting with fellow expats through online forums and expat groups can be a valuable resource for navigating life in Mexico City. With the right support and information, expats can successfully adapt to their new surroundings and enjoy all the incredible experiences that Mexico City has to offer.
Summary
Mexico City is a diverse and exciting metropolis with a multitude of neighborhoods that cater to every lifestyle and preference. From trendy hubs like Roma Norte to family-friendly havens like Coyoacán, there's a neighborhood perfect for every expat looking to make Mexico City their home. By exploring neighborhoods that offer safety, convenience, and an authentic local experience, expats can fully embrace the vibrant culture and rich history of this incredible city. It's time to discover your ideal neighborhood in Mexico City and start living your dream expat life!
Frequently Asked Questions
Where do most expats live in Mexico City?
Most expats choose to live in Condesa, Mexico City's most sought-after neighborhood for travelers, expats and digital nomads, offering great reasons to stay.
What is the safest area in Mexico City to live?
The safest area to live in Mexico City is Polanco, Roma or Condesa Condesa. These areas are known for their low crime rates, well-maintained streets and high presence of security personnel, making them ideal places for anyone looking to settle in Mexico City. Safety is a top priority for many people when choosing a place to live, and these areas provide a sense of security and peace of mind. Additionally, these areas are known for their
Where do millionaires live in Mexico City?
Millionaires in Mexico City often choose to live in luxurious neighborhoods like Polanco, the "Beverly Hills of Mexico", Bosque de Lomas, and Santa Fe. These three areas offer exclusive amenities such as luxury shopping, high-end restaurants, upscale hotels, diplomatic missions, and embassies, making them some of the most expensive and safest places to live in the country. These neighborhoods are home to some of the wealthiest people in the country, and they are known for their high-end lifestyle and luxurious amenities. Residents enjoy access to world-class shopping, fine dining, and exclusive clubs. They also benefit from the security provided by the diplomatic
Are there family-friendly neighborhoods in Mexico City?
Yes, Mexico City offers a variety of family-friendly neighborhoods such as Coyoacán and San Angel, full of cultural richness and history.
What neighborhoods in Mexico City cater to professionals?
Santa Fe and Cuauhtémoc are the perfect places for professionals looking for a balance between work and life, thanks to their convenience.