It should come as no surprise that Mexico is more liberal with their legal drinking age than the United States. In Mexico, you must be 18 years of age to drink legally, compared to 21 years old in the United States. That said, this isn't always enforced strictly. If you are of a certain age this might make a trip to this portion of Latin America worthwhile for you.
Despite the legal drinking age being 21, there are many times were 16 and 17-year olds are allowed to drink at resorts.  This isn't something you can count on being the case, but it's definitely something I've seen more than a time or two. Don't go down the path of getting your 16-year-old fired up to drink on your Mexico resort vacation.
College Kids Headed to Mexico for Spring Break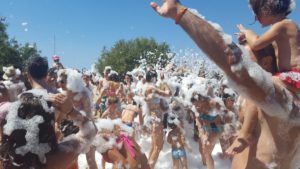 The people who should be fired up about the legal drinking age in Mexico is 18 are American college students. Maybe their parents should have some cause for concern, but how much more attractive is Mexico when they know they will be able to drink legally?
This is already a popular option as over 100,000 American teenagers travel to Mexican resorts in Cabo San Lucas, Cozumel, Cancun and Playa del Carmen. Most are able to have safe fun but there is always the risk of trouble from severe intoxication such as drunk driving and indecent exposure. These teens can return stripped of their dignity, but they usually return safe.
Alcohol Safety in Mexico
Despite the younger drinking age, there are still laws in place to keep people safe while drinking in Mexico.
Do Not Drink in Public
Though you are allowed to drink at age 18 in Mexico, you are not allowed to display being publicly intoxicated or bring an open bottle of alcohol with you into the public. This is similar to the United States where a lot of people are drunk in public. Simple tip: just don't go around acting a fool.
Be Aware of Spiked Drinks
If you've ever been to Mexico you have surely heard "don't drink the water." Drinks can become tainted, both intentionally and unintentionally. If you begin to feel ill, stop drinking immediately and seek medical attention.
Be Aware of Your Belongings
Obviously drinking alcohol can lower your guard so be aware of your surroundings. Make sure you don't lose your belongings. It's nice to have your passport, but make sure it's secured. When you are not showing it to obtain alcoholic beverages put it away. If possible, carry a copy of it instead of the actual passport.
Stay on the Resort!
Odds are you've also heard the words "do not leave the resort." While there are certain attractions and destinations that can lure people off the resort, everything you need is right at the resort. If you make the right resort choice you can all of you need right there. Entertainment and male/female attractions are all right near you.  Many of these resorts are all-inclusive, meaning all of your food and alcohol is paid for while you are there. So in that case, why would you leave?
Mexico is an Awesome Party Destination, But…
While a resort in Mexico is an excellent party option, it's important to be careful. Make sure to keep your own safety in mind. With a moderate amount of safety awareness, an 18 to 20 year old can travel to a resort in Mexico and have the time of their life during spring break. You can check out some of the Mexican all-inclusive resort options here.